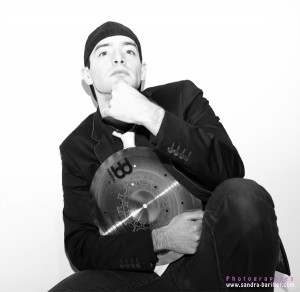 As a drummer, Aurélien Ouzoulias plays on Tama (JP) ,Vater Drumsticks (USA), and Meinl cymbals (DE). He went to music at the age of 15 playing in rock and metal bands. Early in his 17, drumming became his main activity. After few gigs and recordings with musicians from Paris, he decided to go to Nancy to enter the Music Academy Internationale (M.A.I) school of music.
There he formed a band, met and took some lessons with very talented musicians. In July 2000, he got his one year Diploma with greetings from the jury. In september 2000 he started his first tour in the east of France with his band Kooma. Taking part in many different projects he did this year about 80 gigs. Between 2002 and 2004 he went several times on tour with Kooma. During one of these tours he became Ron Thal's (Bumblefoot) drummer, a famous american guitar player now in Guns N' Roses. This same year he joined the neo-metal band Artsonic.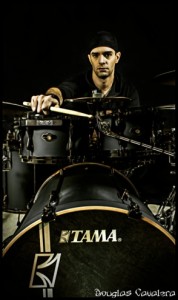 In 2004 he decided to take some percussion lessons (conga,Timbales, Bongo) with Miguel Gomez (Paco de Lucia, Africando All Stars). This musical experience has greatly enriched him. In 2005 he joined the Metal Band Zuul FX.With the band he did his firsts European tours. After two records, music videos broadcasted on MTV, MCM,W9,VH1, the band recorded his first DVD released in December 2008. Since 2005 first Zuul FX record, Aurel has played and still plays with many other bands, and in very different styles of music (Rock, Pop, R'nB, Acoustic, Instrumental).
At the end of 2007 he has been contacted by the duet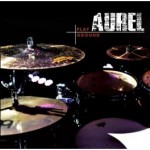 Christophe Godin/Ivan Rougny to join their band Mörglbl, a prog-rock/jazz-
metal band. The band has played many times at the Musikmesse in Frankfurt has toured in the UK, Germany, USA… and at the Shanghai Music Show for the first time in 2012 where he met Inophis for the first time speaking about his band project « EQUINOX ».
More recently Aurel joined the american gospel/rock artist Chi Coltrana for her tours.They started together in Vienna (AT) on June 2009 with a show in front of 100,000 people. Since then they've been touring in Europe. More recently Aurel played with Paul Gilbert during his european guitar clinic tour. His first solo album Playground has been released in September 2012.
He joined « EQUINOX » in the end of 2013 as a drummer.
Life in a water drop – Album Playground :
Aurelien Ouzoulias and collaborations on Stage: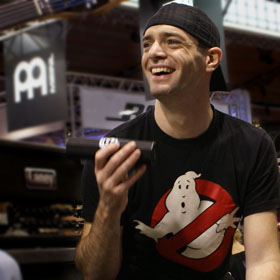 Paul Gilbert (Mr big) 2012, Guthrie Govan 2012 Jess Amli 2012, The M.A.Y.S since 2003,Satan Jokers since 2010, Chi Coltrane since 2009, Mörglbl since 2007,Erick Zicky 2007, Eddy Gatline 2007, Amem Birdem 2007, SOLARIS 2006,
Plug'In 2006, Zuul FX 2004, Emklem 2003, Ron Thal 2003, Artsonic 2003, Erikel since 2003, Komma 1999-2003….
Aurelien Ouzoulias and collaborations on Studio:
Yves Gilbert, Florent Mothe (Warner), Renaud Hantson Stephane Grangier (Autoprod), Superfiz (Pervade), Satan Jokers ( XIII bis/ Brennus), Chi Coltrane (Sony), Olivier Miller (Nrj/Big Broz record/Mercury), Mörglbl (Laser's edge), Zuul FX (Equilbre Music/ XIII bis), Le Noyau Dur (Sriracha Records), Emklem (Autoprod), Artsonic (STS), Patrice Star'Ac n°1 (Universal Music), Erikel (Universal), Kooma (MCD/Axyalis/KEEKS)
---